Nyansa Expands Global Partner Base with Addition of PlexNet to Voyers Channel Partner Program
PALO ALTO, CA – September 5, 2018 – Nyansa, Inc. ("knee-ans-sah"), a fast-growing innovator of a new generation of user performance management technology, today announced PlexNet, a specialist in networking, application, infrastructure and security testing and analysis, based in Australia, has been added to the Nyansa Voyers Channel Partner Program.
The agreement adds Voyance, Nyansa's user performance management and network assurance platform, to PlexNet's solution set giving it a single network infrastructure management tool that provides its customers with deep insights into user, device, application and service performance from client to cloud.
Voyance is a cloud-based one-stop-shop for network analytics and monitoring. It's the first vendor-agnostic wired/wireless user performance management and network assurance platform to analyze and correlate the broadest range of infrastructure data from client devices, IP network services (DNS, DHCP, AAA), unified communication (UC) systems, cloud and custom enterprise applications as well as wide area network (WAN) router flow data.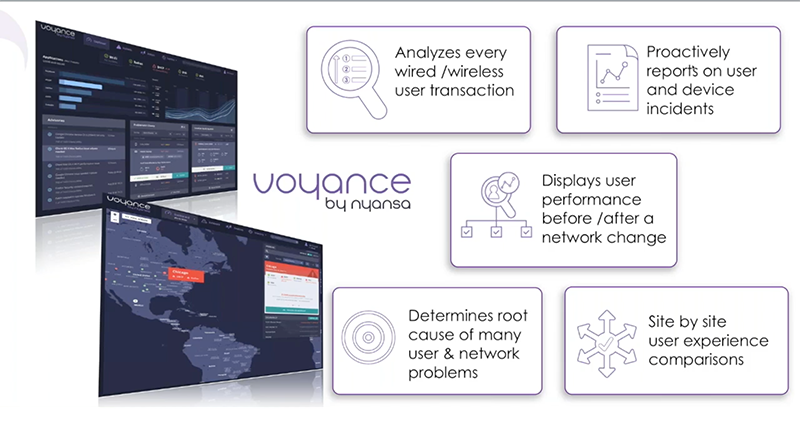 That unique distinction not only differentiates Nyansa partners from other solution providers, it also gives them a recurring revenue model and faster delivery time thanks to its SaaS-based delivery model.
Conventional monitoring and management technologies focus only on specific vendor solutions and provide only a partial view into device performance on a specific segment of the network. Voyance uses machine learning and network analytics to capture and correlate every network transaction across the network stack and automatically pinpoint user performance problems that exist or might exist in the future based on data trends.
"With Voyance, our customers are prepared to handle the complexity that comes with today's modern networks and keep use performance optimized," said Sergio Ferreira, CEO at PlexNet. "It's ability to monitor, correlate and analyze every network transaction ends the blame game within the IT shop of where the root cause of a problem resides."
"A new era of infrastructure management is taking hold globally with the advent of cloud, IoT and software defined networks," said Abe Ankumah, CEO and co-founder of Nyansa. "As we expand Voyance globally to help enterprise customers around the world monitor and manage user performance on their networks, expert partners like PlexNet are critical to that growth and success."